Sedona Bed and Breakfast and Spa
and Luxury Sedona Vacation Rental – Cathedral Casita (2 story condo)
Watch this beautiful video about our property, created by cinematographer and actor Rob Springer.
This forty-six hundred square foot luxury (and green!) Sedona Bed and Breakfast and Spa rests on a hill with 360-degree views of red rocks by day and trillions of stars by telescope or the naked eye at night. A serene, pastoral, uplifting, panoramic red rock setting; like nothing you have ever seen before. Snuggle up with a book by your private fireplace or on one of our many decks. Relax and regroup in the 2-person whirlpool tub or generous double shower room and experience a warm towel waiting for you from your towel warmer.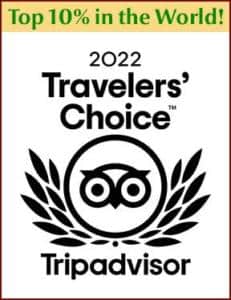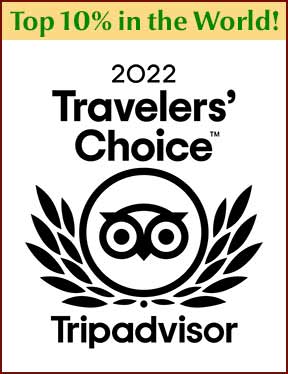 This is a kind of ambiance that is inspirational and fosters clarity and vitality. It is a place where you can sneak off; slip away and leave behind the stresses of life – a private, peaceful sanctuary on a breathtaking acre, dotted with many mature trees and native vegetation. Choose one of two luxury suites for the true pampering experience. Massages can be in your room, outside or at a nearby spa.
Traveling with friends or children over age 10, consider our two-bedroom, two-bath, private Casita. Designed for four but there is a convertible couch that sleeps one.
PRIVATE 2 BEDROOM, TWO BATHROOM LUXURY TWO-STORY SEDONA VACATION RENTAL

Choose a Sedona Experience, not just a place to sleep. Sit on one of two decks and watch wildlife abound. Feel the energy of breathtaking Cathedral Rock (a vortex), Pyramid Peak, Capitol Butte, Elephant rock, and Mogollon Rim. Enjoy high-end furnishings and design. Fall asleep or read in one of the cushy recliners or the King or Queen Leese mattresses. Top of the line kitchen with nontoxic, Blue Diamond ceramic, nonstick cookware. Large tiled showers with towel warmers. Stay on property and walk the meditative labyrinth. Play bocce ball, corn hole (bean bag toss), or horseshoes. Walk to Oak Creek in Red Rock Crossing Park & many trails. Perfect for 2-5 people. Well-behaved children must be 10+.

BED AND BREAKFAST SUITES or PRIVATE CATHEDRAL CASITA VACATION RENTAL
Luxury Accommodations in Sedona
TWO LUXURY BED AND BREAKFAST SUITES or a PRIVATE 2-BEDROOM, 2- BATH CASITA VACATION RENTAL
Choose the full B&B pampering experience or private designer luxury in Cathedral Casita. Both with King or Queen beds with large, beautiful private showers. The B&B suites have two-person jetted tubs also.
Both with concierge help and guidance. B&B serves breakfast of choice with flexible timeframes. Some breakfast food is provided in cabinets and a full-size refrigerator in Casita. Gourmet recipes are provided if you feel like cooking. If not, there are over 100 restaurants in the Sedona, Village of Oak Creek area.
Enjoy Boutique Resort style outdoor games, horseshoes, corn-hole, Bocce Ball, outdoor checkers and Native American medicine wheel and labyrinth on one picturesque wooded acre with relaxing water fountains.
We are "Green" and Solar! Enjoy your Sedona Vacation in a luxurious, healthy environment!
Sedona Film Festival's Most "Green" B&B award, 2012 and 2014. Solar – organic garden – natural cleaning products – composting.
Sedona Cathedral Hideaway is a Premier Sedona Bed and Breakfast that gets rave reviews on TripAdvisor and has the Highest Guest Satisfaction Rating of most B&B's in Sedona (100%).
Read our latest review: Relaxing in the Shadow of Cathedral Rock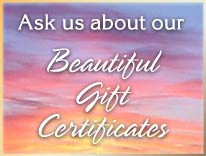 Articles about our Property, Places Nearby, Reviews, Recipes & More
Sedona Boutique Hotels… They try to compete with bed [...]
PRIVATE GOURMET BREAKFAST OF YOUR CHOICE IN MAIN B&B or DO YOUR OWN COOKING IN CASITA, WITH COACHING IF YOU WISH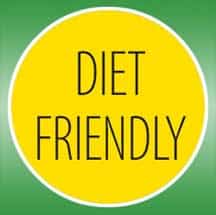 If Breakfast is your thing and you would like to eat with the hummingbirds when they are migrating, you will want to stay with Kathy and Larry in the big house so you can be served an organic breakfast of your choice at the time of your choice. Guests from each room eat separately. Gluten-free, vegan, vegetarian, keto -no problem!
If you would like to experiment with their recipes, then choose the casita and cook with top-of-the-line cookware, Blue Diamond nonstick, BPF free, and stainless steel appliances with a gas range. You can also eat on one of YOUR decks and enjoy the birds, wildlife, and view of Cathedral Rock, the labyrinth, the bocce ball court, and vegetable gardens.
Enjoy & Remember Magical Times With Us
It's all about you... Indulge in pampering, luxury, and privacy. Enjoy every amenity and inspiring views at our ultra-boutique hideaway.
CHECK AVAILABILITY / MAKE A RESERVATION
It's really about you, but here's a little bit about us…
Larry was an Assistant Superintendent, in a Correctional Facility for Juveniles, in Illinois for 30 years. His style was nothing like those nasty movies. The young adults, up to age 21, were taught at the knowledge level they were at when they came in. He set up building programs so they could go home with knowledge and hope. He retired at age 53. When they married and moved to Gilbert, AZ. He taught a collage class and also worked at a mental health center. He has a Masters in counseling.
Kathy met him in St. Charles, Il when they were both 49. Kathy started in technology in the 70s. Yes, before cell phones. She was the first woman to sell large computers and also software in the Chicago area. When "The Mac" replaced her software, she switched to Real Estate. When the market died ten years later she moved with Larry to Gilbert, Az after getting her Aesthetics license. She opened an anti-aging skincare shop near Phoenix for ten years. However, The goal was always to get to Sedona permanently. After searching for 11 years for the lot Kathy had seen in a meditation, they found and purchased it in 2,000. With tears streaming down her face, she threw up her arms and said, this is it!!!!
"We designed and built it to be a B&B with privacy for everyone in 2005 and 2006. It has been the best career for both of us. We get to meet bright and delightful people from all over the world and cook fantastic breakfasts for them." Kathy has 3 adult children and Larry has 2. We have 9 beautiful grandchildren. Only two are in Arizona."
STARS – SUNSETS – SUNRISES
All moments to remember and write about like the journalists do. You don't have to be a professional photographer to get that perfect shot of Cathedral Rock reflecting in Oak Creek or a puddle. Getting that shot in any season will be "Wall Worthy". Keep in mind if the full moon is set to rise early in the evening, the stars will not be as bright without our usual dark sky.
ICONIC RED ROCK VIEWS, SCENIC OAK CREEK, ANCIENT RUINS
AMAZING TRAILS – Easy, Moderate or Challenging right from the house. SEDONA HAS IT ALL:
HIKE – BIKE – OFF-ROADING – TOURS – JEROME GHOST TOWN & GALLERIES – MEDICAL AND SPIRITUAL READINGS BY PSYCHICS – SHAMAN TOURS AND WEDDINGS – PHOTOGRAPHY TOURS – VERDE CANYON RAILROAD, PALATKI RUINS, TUZIGOOT NATIONAL MONUMENT
Or just relax and let our creative energy and surroundings renew your soul and find your special path.
Rand McNally Maps, TripAdvisor and AAA said we have some of the most beautiful scenic byways in the U.S.