Availability & Reservations
Please call us at 1-866-973-3662 (1-866-9SEDONA) or local 928-203-4180 to check availability and make your Sedona Bed and Breakfast reservation. Reservations can be made by email, however, we prefer to talk to you on our toll-free number, so we can be sure we are providing the most comfortable and luxurious accommodations for you as an individual.
The property was created for a Sedona Experience; not just a place to sleep.
UVC whole house air purification for allergens and viruses.
The whole house uses softened water and purification from a 500 ft. well.
CALL: 928-203-4180 for more information
EVERYTHING IS CLEAN AND DISINFECTED.
Pricing for both rooms and our new casita:
Sedona Safari Room
$389 nightly, all week long for double occupancy. Add $50 per night for one extra person. Must book both rooms if bringing children 10 and over. No child under 10 is allowed. 2-night minimum.
The Evergreen Room
$339 nightly, all week long for double occupancy. 2-night minimum.
DOUBLE OCCUPANCY MEANS TWO PEOPLE NOT TWO BEDS.
Discount for past guests only if you call us direct.
BOOK NOW – 1-866-9SEDONA – 928-203-4180.
Luxury Cathedral Casita (vacation rental)
Luxury Cathedral Casita completed November 2020 with Epic Views from all windows and both private decks.
On the same beautiful one acre property with labyrinth, gardens, patio with fossils in stone, bocce ball and corn-hole court, and horseshoes,
1,300 sq. ft. – 2 comfy bedrooms & 2 en-suite gorgeous showers, laundry facility
Luxury Bedrooms & Baths on 2 separate floors for privacy.
$399 per night + one $90 cleaning fee for the entire stay. 3-night minimum.
The living room, kitchen, and decks overlook the famous Cathedral Rock. Perfect for four people. Well-behaved children over twelve are permitted for casita only. Wonderful Leesa foam beds and some breakfast food and spices are provided in the refrigerator and cabinets. Like with the main house, we will recommend the best restaurants, trails, tours, massage therapists, etc.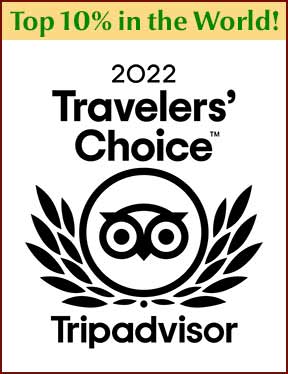 COVID POLICY
We reserve the right to cancel due to Covid-19.
Enjoy total privacy in our Cathedral Casita which is just 50 feet away from the B&B:
Our 2 bedroom, 2 bath luxury casita was finally completed in November 2020. This is a perfect option for those concerned about social distancing or just want a totally private luxury home to enjoy alone, with another couple or with family. It sleeps five.  See our Casita photos and tab for more information. NO PARTIES ALLOWED!
There is a full kitchen in the casita to make it easy for you to make your meals. It has two decks with epic amazing red rock views. It overlooks our heart-shaped labyrinth, patio, bocce ball/ corn-hole court, and horseshoe pit.
DIRECTIONS
We will give you directions to our lovely Sedona Bed and Breakfast and Casita, after your reservation has been confirmed. Sometimes GPS takes you the long way to route you past all the stores.  It is best to print out our directions from the location you give us when booking. We are tucked away for privacy, but trails, restaurants, sights and activities are just a stone's throw away.
Our property is shown by appointment only.
GPS
34.8295839, -111.810574
N34° 49.775′, W111° 48.6344′
SPECIALS
STAY 7 Nights and get the 7th night FREE!
10% discount for returning guests.
To receive any specials, you must book with us directly by phone.
Call 928-203-4180 for booking and more information.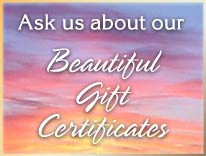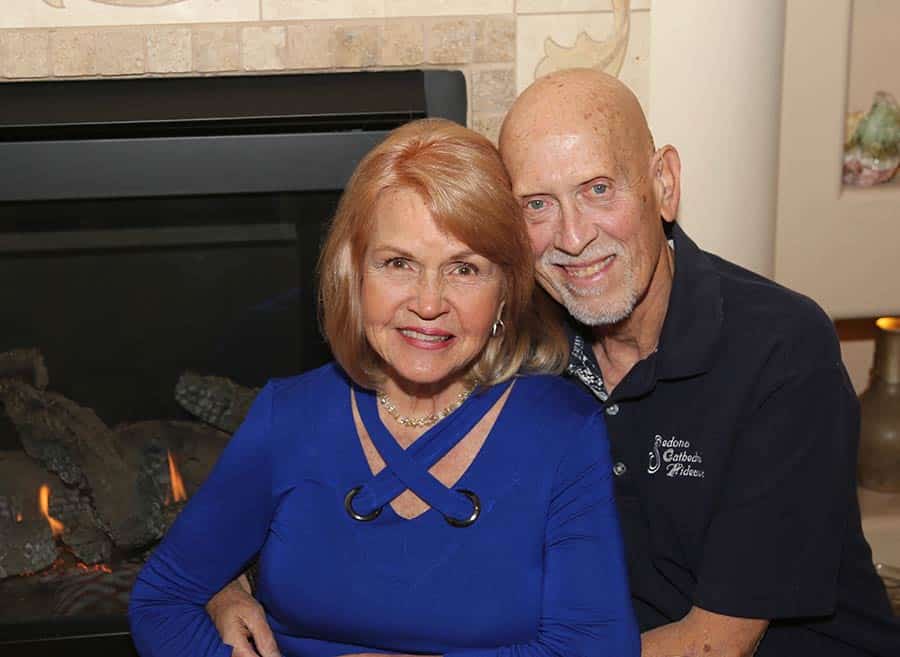 Policies & Procedures:
50% of your stay is non-refundable if cancellation is not made 14 days prior to your scheduled arrival date and time, and we are unable to fill your vacated dates. If we are able to fill all your vacated dates we will charge you $50 only. 14 days prior to arrival, the full amount will be charged. Sedona Cathedral Hideaway reserves the right to cancel any reservation if an emergency should arise. We will only admit those mentioned at the time of booking.  If booking through a 3rd party, their policies will apply to you.
PLEASE NOTE: If you are booking the whole property, a 30-day cancellation policy will apply. 50% of your stay is non-refundable if cancellation is not made 30 days prior to your scheduled arrival date and time, and we are unable to fill your vacated dates. If we can fill all your vacated dates, we will charge you $50 per room only. 30 days before arrival, the total amount will be charged.
There is a minimum stay of two nights for the B&B and 3 nights for the Guest House (Cathedral Casita).
Cancellations made up to two weeks (14 days) before the arrival date will result in a $50 processing fee per room.
Any cancellation or change within three nights before the first day of your stay will result in the payment in full unless we can re-book those nights.
In case your stay is shortened, guests are responsible for the full amount of the intended stay unless the Sedona Cathedral Hideaway is able to re-rent all reserved room nights.
The Sedona Cathedral Hideaway is a smoke-free environment indoors. Guests are welcome to smoke on the flagstone patio away from open doors and windows.
Check-in is from 3:00 to 9:00 p.m. Guests must pre-arrange for late arrival.
For the B&B, check-out is 11 AM. For the Casita check-out is at 10 AM unless otherwise agreed to.
We accept Visa, MasterCard, and Discover only.
Rates are applicable to Yavapai County taxes ONLY. We do not have city or bed taxes.
All posted rates are based on double occupancy, (two people) with a $50 (+ tax) additional occupant charge in the Sedona Safari Room for one person on the hide-abed.
Owners have the right to cancel reservations in case of an emergency. Should this occur, owners will do everything possible to find similar lodging for you with your approval.
CHILDREN
In the Bed and Breakfast, parents must reserve both rooms if they are bringing children age 10 and over. When the parents are paying for both rooms, we will give a 15% discount for the Evergreen room.  Any children must be approved in writing by the owners.
Young children under 10 are not allowed in either the Bed and Breakfast or the Guest House (Cathedral Casita). No exceptions. No extra charge for children in Casita as long as there are five people or fewer. Casita cannot accommodate more than five.  ABSOLUTELY NO PETS EVER.
PETS
We are a "no pet" Bed and Breakfast.  No pets are allowed for ANY reason. Owner is allergic to most dogs and cats.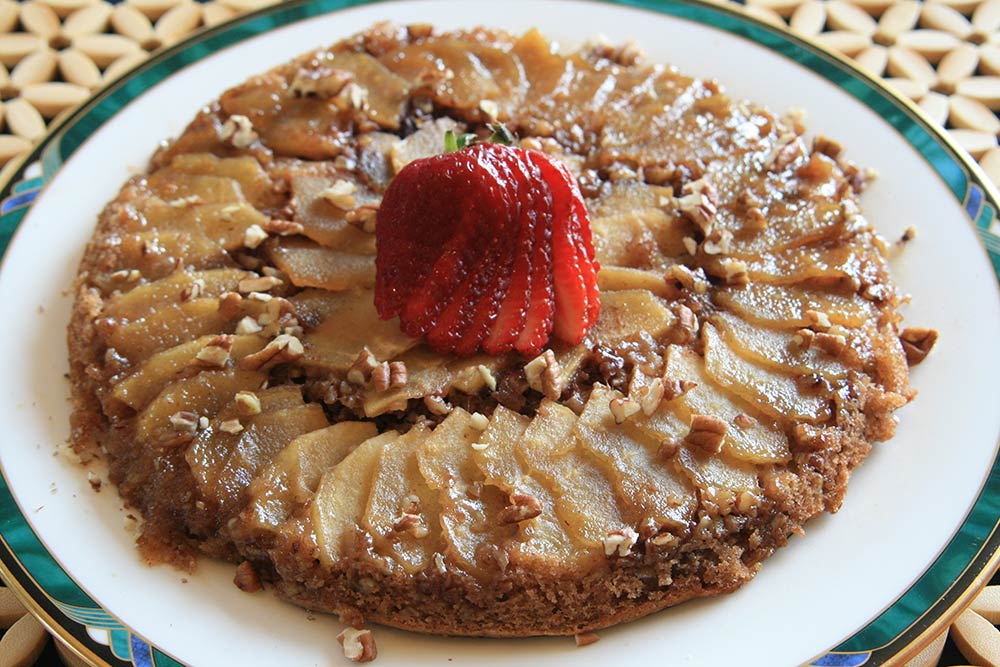 Average Sedona Temperatures
These are average temperatures so, of course, they vary throughout the day. The low is after midnight.
Sedona has over 300 days of sun per year. There are many trails surrounded by trees. Cool off along Oak Creek which is only a five-minute walk, or take a short drive up Oak Creek Canyon to a park at 6,000 feet elevation and paddle your feet at the West Fork Trail in that same sparkling Oak Creek.
Did you know, average daytime temperatures in Sedona in the wintertime can be 45 to 60 degrees? It can sometimes even get up to the low 70s!
PHOTO: Kathy and Larry still make time to enjoy those special moments. How about you?

Extend your stay in Sedona
Why our guests love having an extended stay in Sedona, the gateway to many famous sites.
We can schedule and direct you to any of the nearby attractions. Most people stay in Sedona for the first four or five days and then make this a base point for seeing other famous attractions such as the South Rim of The Grand Canyon, (a beautiful scenic 2 1/2 hour drive). This usually closes mid October because of snow.  Some people like to take a little detour when driving North of Flagstaff, and see
Wapatki Ruins, (left click on links) https://www.nps.gov/wupa/index.htm
Sunset Crater: https://www.nps.gov/sucr/index.htm
Bearizona is great wildlife park North of Flagstaff: http://bearizona.com/
TO THE WEST OF SEDONA: Verde Canyon Railroad in Clarkdale: https://verdecanyonrr.com/train-schedule/
Also, if you like antiques, wineries, handmade jewelry, crystals etc., Jerome, is an old mining town built into the side of a mountain with red rock views of Sedona. It is about 35 minutes away.  They also have great restaurants, shops and ghost tours. The Ghost walk in October. Here is a link to show you JEROME can be like Halloween all year:
Fun Activities in Jerome – 35 minutes from Sedona
Total relaxation doesn't usually happen until the third day. This occurs from sitting on one of our many decks and watching the hummingbirds, finch and many other beautiful birds and wildlife. Many have said, there is something mesmerizing about staring at Cathedral Rock and the glowing stars in the black, nighttime skis while lying on an anti-gravity chair with your bed pillow.
There is also, something very special and personal about having a professional facial or massage without ever leaving the house. Many of the anti-aging treatments are FREE when staying for four to six nights with the seventh night FREE.
Many, high, mountain view overlooks can be driven to with either a short walk or a long hike (whichever you prefer) to experience Sedona's majesty. We have thousands of years of history here, with 300 archeological sites, 130 trails, and breathtaking red rock views wherever you look. Read the rest of this article about extended vacations in Sedona, Arizona at our luxury Bed and Breakfast.
Enjoy & Remember Magical Times With Us
It's all about you... Indulge in pampering, luxury, and privacy. Enjoy every amenity and inspiring views at our ultra-boutique hideaway.
CHECK AVAILABILITY / MAKE A RESERVATION